Rogers Principal Named Rhode Island High School Principal of the Year
Published: March 31, 2010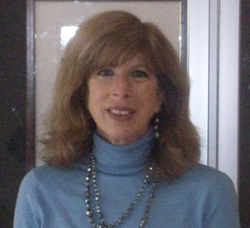 The Board of Directors of the Rhode Island Association of School Principals (RIASP) has named Patricia DiCenso, Principal of Rogers High School in Newport and resident of Cranston, as its 2010 High School Principal ofthe Year.
Mrs. DiCenso holds a Bachelor of science Degree in Physical Education and Health and a Masters of Education in Health Education from Rhode Island College, Guidance Counseling Certification from Providence College, and Secondary Leadership Certification from the RI Principals Residency Network. Having served as a physical education and health teacher in Providence and Johnston, Mrs. DiCenso was a guidance counselor at Johnston High School for five years before completing her administrative internship at North Kingstown High School. After three years as Assistant Principal at North Kingstown High School, Mrs. DiCenso became Principal of William S. Rogers High School in Newport in August of 2005.
Superintendent John Ambrogi notes that Rogers High School's reputation, both in the City of Newport and in the State of Rhode Island, has greatly improved due to Mrs. DiCenso's leadership. She has successfully changed the culture of Rogers High School to be a true learning community where all staff and administrators are involved in collaborative, data-driven decision making. "The Credit Recovery Program, Alternative Learning Program, common planning time for teachers, comprehensive guidance initiatives, a strong Advanced Placement Program, Vertical Teaming, and a new summer school program are just a few of the major initiatives that Mrs. DiCenso has shepherded into Rogers High School over the past four and one half years."
An administrative colleague describes Patti as an "exemplary individual, possessing personal traits that include determination, compassion, and intelligence, a high degree of organizational skills, energy, enthusiasm, and dependable follow through." Teachers credit Mrs. DiCenso with believing in them, inspiring them, supporting them, empowering and leading them to develop a professional learning community in which they work together collaboratively to improve learning and teaching.
Students and parents praise Mrs. DiCenso for returning Viking Pride to Rogers High School. They consider her their number one cheerleader, setting high standards for all and demanding excellence in performance. Proof of her impact on the school community lies in the 2009 NECAP test results: the proficiency rate for reading improved from 67 percent in 2008 to 83 percent in 2009: this 15.4 percent increase was one of the largest one year increases in proficiency among high schools in the state. Additionally, from 2008 to 2009 the graduation rate at the school increased more than nine percent.
The High School Principal of the Year Awards Program is conducted nationally by the National Association of Secondary School Principals (NASSP) with financial support from MetLife. In October 2010, Mrs. DiCenso along with the winners from each state will be honored at ceremonies to be held in Washington, D.C. She will also be recognized at a RIASP dinner meeting to be held at the Radisson hotel in Warwick on May 27, 2010.