Remembering John Toppa
Published: May 2011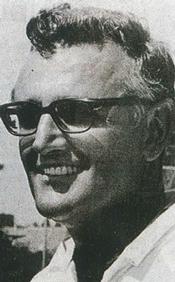 John J. Toppa, Jr., 79, of Harrison Avenue died Monday, February 14th, at the Village House Nursing Home. He was the husband of the late Mary Maloney Toppa. Born August 26th, 1931 he was the son of the late John J. Toppa, the brother of the late James Toppa.
In his early years John played football, basketball and baseball at De La Salle Academy, serving as caption of his football and baseball teams. Upon his graduation in 1949 he earned a football scholarship to Boston College where he captained the football team in 1952
After graduating from Boston College he began his football coaching career at Woonsocket High School from 1954 to 1957. In 1958 he became head football coach at Rogers High School in Newport, a position he held until his retirement in 1990. In addition to his duties as football coach and teacher he served as Director of Athletics for 25 years.
During John's 32 year career as head football coach at Rogers High School his teams won 11 state championships and 13 divisional titles. In 1989 while still coaching, the City of Newport expressed it's appreciation to John for his years of dedication to Newport's student athletes by dedicating in his name the athletic field at Freebody Park.
Throughout John's career, he was recognized by many organizations, among the honors bestowed upon him were: Words Unlimited Rhode Island Football Coach of the Year, 1974, 1978, 1988. He was inducted into several Halls Of Fame: The National Italian/American Sports Hall of Fame, The Providence Gridiron Club Hall of Fame, Rhode Island Football Coaches Association Hall of Fame, The Rhode Island Chapter of The National Football Foundation And College Hall of Fame, Rhode Island Interscholastic League Hall of Fame, Rhode Island Scholar-Athlete Hall Of Fame, City of Newport Sports Hall of Fame, Rogers High School Athletic Hall of Fame. In addition he was recognized by the National Council of Secondary Schools in 1978 as Athletic Director of the Year.
As a member of the Rhode Island Coaches Association, John held offices as President, Vice President, Secretary and Treasurer. He also served on it's Executive Board as well as on the Executive Board of the Rhode Island Interscholastic Injury Fund.
He had a profound effect on the lives of many young men. His enthusiasm, spirit, integrity and pursuit of excellence influenced thousands.
In lieu of flowers donations may be made in John's memory to Village House Nursing and Rehabilitation Center, Activities Fund, 70 Harrison Ave, Newport, RI, 02840 or to Rogers High School Athletic Fund, 15 Wickham Rd, Newport, RI, 02840.
John may not have been a Rogers High School Alumni, but, he WAS Rogers High School. CCM